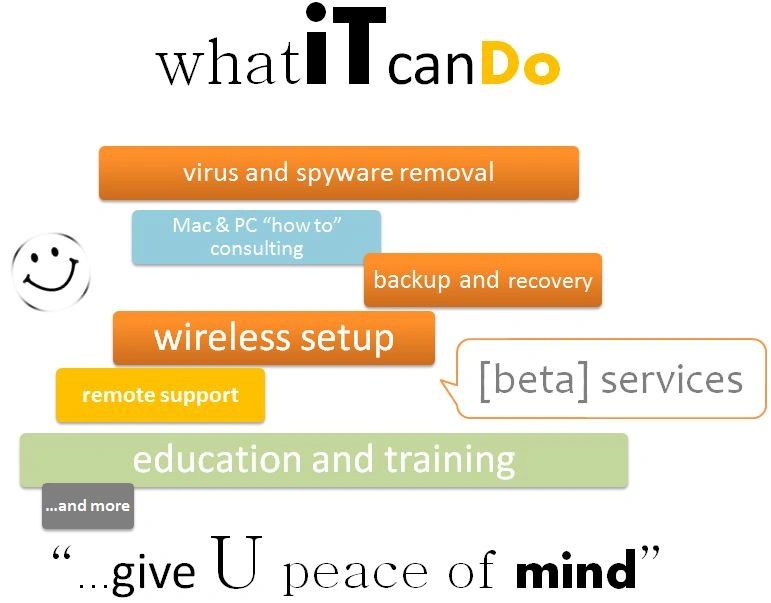 And if any of these needs fit U,
call me
:
* computer repair in Kathleen, GA and Warner Robins, GA
* Diagnosis
* Data Backup (Onsite & Offsite)
* Virus and Spyware Removal
* Operating System Restoral
* Hardware Installation, Repair (minor), and Replacement
* Memory Upgrades
* Performance Enhancements
* PC Tune-up & Optimization Service
* Mac & PC Training
* Hard Drive Data Recovery (minor)
* Data Transfer
* Printer Installation
* New Computer Setup
* Networking Setup and Maintenance (including wireless)
* Laptop System Installations
* Operating System Upgrades

***BIG NOTICE:
U are responsible for your data before it gets to me. But, U&iT has a solution for you so don't worry. For immediate offsite backup, we recommend Backblaze for simplicity and peace of mind. Please backup your data regularly or call me and I'll help you!

Also, for businesses that need backup solutions, go to Prestige Computer Solutions (professional onsite & offsite backup).
Questions about Online Backup and BackBlaze
(content used by permission from BackBlaze.com)

Why Online Backup?
It's not a question of will you lose your data—it's when. Whether it's a catastrophic event, such as an earthquake, fire, flood, or a mad panda that destroys your computer, or the more common virus, hard-drive crash, laptop left in a taxi, or coffee spill, your PC will eventually lose your photos, music, and documents.
Can't I Recover Data From a Dead Hard Drive?
Not if your computer has been stolen—and rarely even if you have it. Companies charge approximately $3,000 to attempt to recover your data with no guarantee that you'll glean anything from it. For the price of one attempted $3,000 recovery, Backblaze can backup your computer for 50 years at $5 per month.
OK, But I Bought an External USB Hard Drive. Am I Safe?
It's a good start, but as our vice president of design says, "better safe than sorta safe." Do you back up your data every day? Or do you sometimes forget? Are you sure you're backing up the right files? Are your computer and USB drive stored in the same place, making both susceptible to the same risks? What if you go on a trip and leave the drive at home? You can't backup or restore files while you're gone. And if you take it with you? Then you're more likely to lose both your laptop and USB drive at the same time!
So, How Am I Backed Up with Backblaze?
You download a tiny application that installs in three clicks and doesn't require a credit card or any information to start using it. This internet backup application automatically finds all your photos, music, documents, and other irreplaceable files—no matter where they are on your hard drive—and compresses and securely encrypts them. When you're not using your computer, it sends them over the Internet to the remote Backblaze datacenters. Learn more about how we built Backblaze online backup for your Mac. We also built a great online backup service for Windows XP, Vista and 7.
How Can You Backup Everything Online For Just $5 per Month?
We have developed a highly efficient storage system that enables us to optimize how we store data. And we're counting on some people having a lot of data and others not very much, but that it will work out on average.

Backup, before you wish you had.